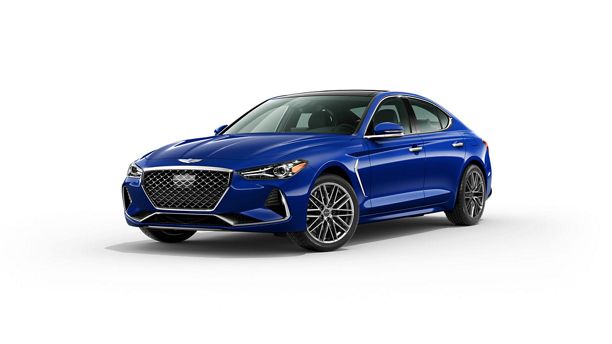 The 2021 Genesis G80 is once again a winner of the IIHS Top Safety Pick Plus award. This makes three years running for the G80! With this year's honor, Genesis models have swept the IIHS Top Safety Pick Plus awards with the G70, GV80, G90, and now the G80 winning this top coveted award. What does this mean? This means that all of the Genesis models have been awarded as the safest vehicles on the road! This is an honor for the Genesis brand.
Difference Between The Top Safety Pick And Top Safety Pick Plus Awards
The Insurance Institute for Highway Safety (IIHS) Top Safety Pick (TSP) and Top Safety Pick+ (TSP+) awards are given to vehicles that perform above and beyond in crash testing and other evaluations. TSP awards were first awarded in 2006, while tougher TSP+ awards were first announced in 2013. In 2020, the qualifications were upped again, with even tougher standards for both TSP and TSP+ awards. Due to these stricter requirements, the list of 2020 TSP+ award winners was noticeably shorter than the list of 2019 winners. 
Top Safety Pick Award
To win the IIHS Top Safety Pick award, a vehicle must pass 4 different tests with at least a "good" rating in each category. The first test is the impact to a crash test dummy. A crash test dummy is set up with sensors & paint to measure how impactful a crash is to a passenger. To score well in this category, the crash test dummy must have as little impact as possible to receive the best score. The second test is remaining survival space after a crash. The more space a person has after a crash, the higher the score will be. The third test tests the airbags checking to see if the airbags deploy as well as have enough space to deploy properly. The fourth test is the effectiveness of the seat belts, especially how well the seat belt does in keeping the crash test dummy in place. The overall rating is based upon vehicle to vehicle collision.
Top Safety Pick Plus Award
For 2021 TSP+ award, the criteria has been even more stringent. First, a vehicle must have an "advanced" rating in each of the tests as well as an "advanced" rating in all categories for vehicle to pedestrian collision and collision prevention. On top of that, there must be crash prevention technology as well as upgraded headlights for safety. It is tough to win the TSP+ award so a tested vehicle really needs to have a safety first mentality.
From Genesis
Mark Del Rosso, President & CEO of Genesis Motors North America says, "At Genesis, the customer is at the core of everything we do, and safety is our top priority, … With this TOP SAFETY PICK+ designation from IIHS, we are pleased that G80 joins our award-winning line-up of vehicles that places customer safety first."
Brian Latouf, Chief Safety Officer of Genesis Motors North America says, "This IIHS TSP+ award for the G80 executive sedan, in addition to the three previous TSP+ designations awarded earlier this year, demonstrates the exceptional safety performance and design of our entire vehicle line-up, … With a number of new advancements and improvements for the 2021 model year, including the first-ever Center Airbag in a G80, we are proud that G80's design effectively protects its occupants and performed well in the IIHS tests."
About Genesis Models
All models produced by Genesis are equipped with a comprehensive suite of state-of-the-art driver assistance and safety technologies including Forward Collision Avoidance-Assist with Pedestrian Detection, Lane Keep Assist, Blind-Spot Collision Warning and much more. Every vehicle in the Genesis line-up offers great handling thanks to the rigid chassis construction that ensures firm stability even under the most challenging driving conditions.
What Safety Features Come With The G80
The 2021 Genesis G80 comes nicely loaded with the latest in safety & driver assistance technologies. This includes:
10 standard airbags, including one of the only Center-Side airbags on the market, further protecting front cabin occupants in the event of a collision

Forward Collision Avoidance-Assist with Junction Crossing and Turning, mitigating the risk of impacts when turning or crossing through an intersection

Blind-Spot Collision Avoidance Assist, helping reduce the chance of potential impact with a moving vehicle, upon departing a parallel parking spot

An all-new platform - with strong focus on safety - including passenger compartment protection and reinforcement areas with use of advanced high strength steel for rigidity and safety.
Yes, you still have to wear your seat belt.
Get Your Next Genesis From Genesis of Edmond
At Genesis of Edmond, we carry all models of the Genesis brand including the G70, G80, GV80, & the ultra luxurious G90. We proudly provide these amazing vehicles to the wonderful people of Edmond, OKC, and all across Oklahoma. Have you ever driven a Genesis?
Schedule a test drive
with us and try one for yourself. We know that you will enjoy the smooth comfort as well as the overall safety of the Genesis vehicles. Come over and visit us at 14137 N. Broadway Extension in Oklahoma City to learn more about Genesis vehicles and see if these cars are right for you!