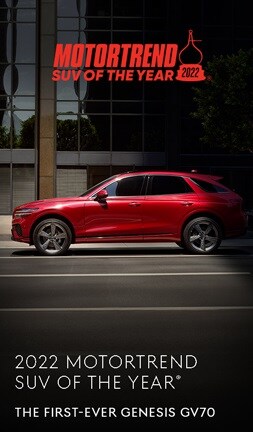 When it comes to competition, there is nothing like that moment when you are announced the winner. The team at Genesis got that very moment when the GV70 was announced as the
2022 MotorTrend SUV of the Year
. Not bad for an SUV in its first year of production. There are plenty of reasons why this Genesis SUV should win but there is also a lot of competition that has been producing high quality SUVs for much longer.
The Genesis GV70 provides proof that you should try a new vehicle before everyone else does. Genesis does an excellent job of combining the luxury feel of the brand with the practicality of driving an SUV. This is not easy to do and other SUV manufacturers have not fared as well as achieving these superior results. Let's take a look at why this first year SUV took the high honors above everyone else.
Design Advancements
If you haven't seen a GV70 in person (or any other Genesis), you really should. From first look, it won't be hard to see why jaws drop. The luxurious look to the car will instantly provide you with a sense of class. When you look a little closer, you will see where Genesis took some risks to the design that may have hindered it but ended up working beautifully. One example is the hood of the car. If you look closely, you will see that the hood actually extends over the grille. This was included to make it easier to access the engine compartment but designed so well, you probably wouldn't notice. Another example is the rear brake light. This light is positioned in the top position of the rear window and angled in such a way that you cannot possibly miss it when engaged. It's this kind of engineering that helped push the Genesis GV70 to the top.
The interior is also very intelligently designed for both comfort and safety. The interior sports a "ovaloid" theme that extends from the pedals to the map lights. The infotainment screen is pretty amazing too. Standard on all GV70's is a 14.5 inch, rotating infotainment screen that is positioned in such a way that it reduces the glare on the windshield at night. Every piece of the GV70 was carefully designed by looking at every little detail to make sure this SUV is not only safe, but ultra luxurious. 
Drivability of the Genesis GV70
The GV70 comes with either a 2.5T or 3.5T engine, eight-speed automatic transmission, and AWD. This helps this SUV to drive more like a car than it does an SUV which many consumers prefer. In fact, you will have the power of 375 horses pulling you and your family around. The torque is nothing to laugh at either with 391lbs-ft of torque. All this power and yet very quiet while running. Another engineering feat.
Price and Value
Genesis, like it's parent company Hyundai, is really setting the standard for features in a car comparative to price. The Genesis is loaded with features without you feeling like you are sitting in the cockpit of the Starship Enterprise. With all of these features, you would almost expect to also see a high price tag. Get ready to be surprised as the GV70 starts at $42,045! Yes, just over $42,000 to get into this luxury SUV. To compare, the GMC Yukon starts at $50,700 and the Porsche Cayenne starts at $67,500. AND, you don't get nearly the number of technology and safety features on either of these vehicles. 
Don't forget about the Genesis warranty which is one of the best warranties for any car maker. A 5 year, 60,000 mile basic warranty and a complimentary maintenance warranty of 3 year, 36,000 miles comes standard with all Genesis GV70s. You even get a 3 year, 36,000 mile free Service Valet where a member of Genesis of Edmond will come and pick your car up for service maintenance, perform the work, and then drop it back off to you (some exclusions apply). It's all part of the Genesis Experience. This luxury service really sets the Genesis brand apart from all other luxury brands.
MotorTrend Didn't Get It Wrong
This was only a small look into why the 2022 Genesis GV70 won MotorTrends SUV of the Year award for 2022. There are plenty more that went into the overall design, drive, comfort, and safety of this vehicle that sets this Genesis SUV apart from other SUVs. This coveted award from MotorTrend was easily given to the 2022 GV70 and hopefully will inspire the industry to up their game.
2022 Genesis GV70 in OKC
Have you read enough and are ready to see one of these Genesis SUVs for yourself? We encourage you to come down and test drive one. We have a feeling that once you get behind the wheel of the GV70, you won't let it go. The 2022 Genesis GV70 is available at Genesis of Edmond, your local OKC Genesis dealer. See our selection online, or just drive over. We are located at 14137 N. Broadway Extension, Oklahoma City, OK 73013. Get ready for the ride of your life!